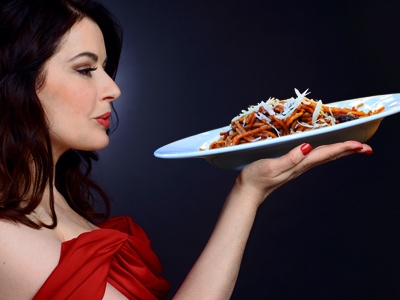 Planning got underway in earnest this week for the Gays & Strays Christmas 2013 at chateaux MacBuscke. So the inevitable phone call from Mr. Nick (Gay husband) of "What have you got arranged for the menu my dear?" this week forced me to pull finger beyond the ham that one of the other guests is to bring.
Monkfish wrapped in Prosciutto
Relaxed casual Christmas dining is certainly not our style, so of course some more dedicated thought was needed to go into what we are doing. Inspiration took the guise 'Viva Nigella Italia' . Mr. Nick has a new job with an Italian Premium Ice Cream & Gelato company & was supplying frozen confections & I have been so appalled at the dirty tricks Charles Saatchi has been playing on his delicious ex-wife Nigella Lawson, who I just adore, I felt the need to support our sexy sister & do Nigella this Christmas!
This has made the dessert short list
This has been made easier by the fact my lovely mother in law gave me Nigellissma last year for Christmas. So a coffee & scan through this lovely book & I am now feel very zen about festive preparations. Fresh lemony seafood with capers, herbs, freshness for the starters, the Ham with sides from the book, fresh Summer berries & Italian Gelato for puds & oozing stinky Gorgonzola to finish - sorted!